Best Sweating Waist Trainer for women workout in Gotoly, made of high-quality neoprene, super body shaping and sweating effect. 
Product Details
Inner Layer: 100% Neoprene.
Professional hot sauna neoprene inside provide a crazy sweating effect.
Outer Layer: 100% Polyester
Front velcro firmly fix it to prevent rolling. External double elastic band enhance the product high compression effect.
Simple and Fashion Design

Thickened rubber strips support your waist and correct posture.  Suitable for cardio in the gym and daily posture correction at home.
3-layer composite fabric make you sweat and slim down.
5 waist bones made of Thickened Rubber Strips. No stimulation, No injury , strong support for your waist.
Suitable for all day wear
Sweating during exercise, tighten the waist muscles, protect muscles and bones from being strained.
During work and leisure, you can wear it to prevent injury caused by incorrect posture, re-correct your posture.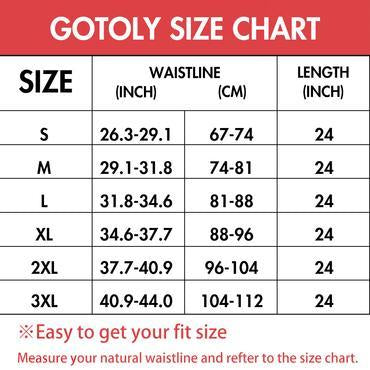 How to Measure
To measure your waistline at home, all you need is a tape measure and some simple instructions.
Begin by clearing your abdomen of any clothing that might skew measurements.
Find the top of your hip bone and the bottom of your ribs. This is your waist, the space you'll want to measure around.
Exhale a normal breath out.
Wrap your tape measure around your waist so it is parallel to the floor. Don't pull too tight or let the tape fall too loosely. Record your measurement.